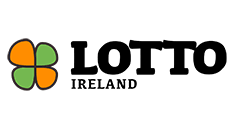 Closing in 184976
€ 2,5 Million

€ 2,5 mln € 5 Million

Draw result Lotto Ireland
Winning numbers
The broadcast recording of the draw is not provided by the Lottery Operator.
Prize breakdown
#

Matched combinations

Winners

Your winnings

1
6
-
€ 11.443.848,00
2
5+B
-
€ 265.471,00
3
5
20
€ 1.798,00
4
4+B
54
€ 168,00
5
4
1.043
€ 56,00
6
3+B
1.439
€ 27,00
7
3
17.038
€ 10,00
8
2+B
14.352
€ 3,00
None of the winnings in Lotto Ireland are subject to taxes.
See Lotto Ireland's winning numbers on the site of Lotto Agent
The national Irish lottery Lotto Ireland has one of the best winning odds in the world, which makes the lottery attractive for both the Irish people and foreign players. To win the top prize of Lotto Ireland, it's necessary to match 6 numbers out of 47. Money raised from ticket sales is allocated for good purposes, for example, for the construction of hospitals.
Draws of this attractive lottery are held twice a week: on Wednesdays and Saturdays. Lotto Ireland prizes are drawn in seven prize categories and each player has a chance to win a prize of 2.000.000+ euros. On this page, a table in which all prize categories of Lotto Ireland are listed can be found.
Lotto Ireland draw results are published shortly after each draw. However, you don't need to go to our website to find out the results of the Irish state game. We send email-notifications that include the latest Lotto Ireland winning numbers and the amount of your winnings. Don't forget to check the results of lottery draws in which you take part. Perhaps you will be the next big winner!